Magnificent Member of the Month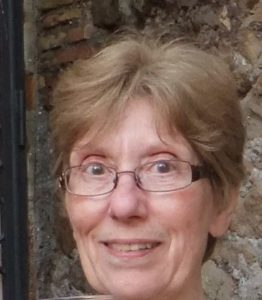 Shelby Ruch is the Magnificent Member of the Month.  
We are extremely grateful for her time and effort that she puts into everything to help benefit our mission.
Volunteering for HH has given me opportunities to pursue my main interests: asking questions, writing, history and travel. I was a reporter for the Butler County News-Record when I discovered Harmony. My husband, John, and I toured the museum and were impressed by the accomplishments of HH volunteers. Soon afterward, a job transfer took us to New Jersey where we became actively involved in historic preservation efforts. When we returned, we settled near Harmony. While working as a reporter and columnist for The News Weekly and Butler Eagle, I wrote about Harmony news and its history. As a freelancer, I've authored articles about the Harmonists in Germany and America for magazines and newspapers.
I grew up on a farm in Ohio near the first permanent settlement in the Northwest Territory and Blennerhassett Island where Aaron Burr made another mess shortly after killing Alexander Hamilton. My family told entertaining stories about area history and our ancestors, an odd lot of roving river men, boat builders and tenant farmers. Asking questions (i.e. "Grandpa, were you in the Civil War?") and taking notes sparked my interest in history, genealogy and writing.
After graduating from Ohio University with a journalism degree, I worked in Massachusetts and on the state copy desk at the Orlando Sentinel. I covered city hall and police beat at a radio station for a year until another woman and I were abruptly fired when management switched to an all-male staff. Three weeks later I was working at United Press International in Columbus as a general assignment reporter alongside a dozen guys, including John Ruch. It was a fast-paced, diverse and interesting job, but I resigned after 16 months to join a friend in Europe.
I spent most of a year and all of my money traveling, working on archeological digs and a kibbutz (a communal living experience) in Israel and studying in Florence, Italy, before joining the UPI Cleveland bureau staff and reconnecting with John.
Five moves, two DIY house rehabs and two kids later, we bought a great old Swain homestead near Harmony. A few months after settling in, John said he was going to see what was happening at that Harmony Museum. The rest is history.