Answer
Where was this old landmark?
Baldingers Store
Baldingers was first built in 1933 as a fruit stand/farm market by Allen and Dorothy Dietz Baldinger.  The paved area in the front in the first picture is old Route 19.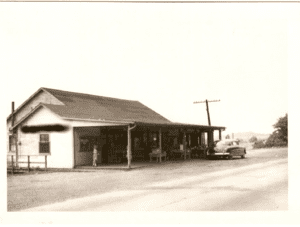 In the 1940s a deli and sandwich shop were added featuring hams and other meats as well as breads and cheeses.  In 1952 Route 19 was rebuilt, widened and moved to its present location. During this time the store was closed and when it reopened it was expanded to include many imported food items, teas and trinkets as well as the candies it became renowned for. It was renamed "Baldingers Foods From All Nations" and became a popular destination for families. Located on the main route from Pittsburgh to Erie, it was almost a mandatory stop for travelers as well.
Growing up in this area meant weekend and summer trips to Baldingers for penny candy where we would browse through the shelves looking at the strange writing from other countries on the various labels and grimacing at the idea of chocolate covered bees and ants. We watched as Dorothy retrieved large wheels of different cheeses from the cooler and sliced off wedges for customers, wrapping them in butcher paper. An enormous wooden cash register sat at the counter to ring up sales. It could only ring purchases up to $9.99 so larger amounts were rung up in multiples of $9.99.
The second picture is of Dorothy at the store. All the local kids remember her sitting at a table in the store, not in the back but out where she could interact with the customers. There she would be filling out orders and doing bookwork between chatting with customers, particularly the children. As an ex-schoolteacher she loved the kids and was always willing to spend time with them.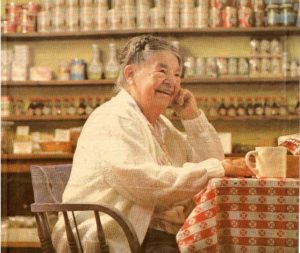 While Allen was involved in the early days of the store, it was Dorothy who was best known. When she passed in 1996 her sister, Lois Dietz Dodge inherited her estate, including the store, which she was determined to preserve. An employee, Betty Sabo, who had been running the store for several years continued to do so for Lois. Betty and her sister Thelma had become almost as well known as Dorothy and ushered a new generation of children through the Baldingers experience.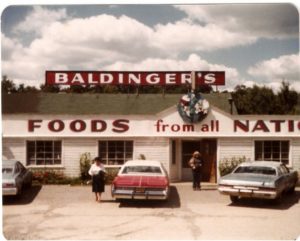 In 2008, the store's 75th anniversary, Lois passed away. With no heir able to take it over, the property was sold, and the store was scheduled for demolition. By then the foundation of the building was in too poor of condition to be salvaged. Local businessman Patrick Boylan purchased the business complete with all the old display cases and other familiar fixtures (including Betty) and moved it 2 ½ miles to its new home, still on Route 19, at the top of Main Street hill on the southern end of Zelienople. Betty and Thelma are no longer there but the legacy goes on as Baldingers Foods From All Nations continues to welcome and delight a new generation of visitors.
Visit our website the first of every month for a new Area Memory.