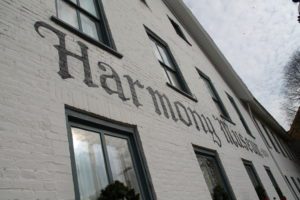 The mission of Historic Harmony Inc., a nonprofit [501(c)(3)] organization founded in 1943, is to preserve and promote public knowledge of the Harmony area's history and heritage through its Harmony Museum collections and outreach activities, foster tourism in southwestern Butler County in cooperation with other organizations and agencies, and encourage preservation of historical resources in support of educational, quality of life, economic development and associated community objectives. To obtain registration and financial information of Historic Harmony Inc. from the Pennsylvania Department of State, phone toll-free within Pennsylvania at 1-800-732-0999. Registration does not imply endorsement.
Historic Harmony, Inc. was founded in 1943 and operates the Harmony Museum, which interprets 250 years of rich history. We have presentations that include George Washington's 1753 mission, Harmonists, Mennonites, and the Ball Collection of outstanding sporting rifles by 19th century Harmony gunsmith Charles Flowers.
Its nine properties include the 1809 main museum building as well as the Harmony Society cemetery and Mennonite meetinghouse and cemetery.
The Historic Harmony Inc. office is located in the main Museum building at 218 Mercer St., Harmony, PA. 16037 and the office is open Tues through Friday from 1 pm to 4 pm.
Historic Harmony's board of directors comprises the organizations four officers and six non-officer directors. Officers are elected by the membership every two years. Other directors are elected by the membership to three-year terms, two of which expire each year.
Rodney Gasch
President & CEO
Gwen Lutz
Vice President
Linda
Powlus
Secretary
Joe White
Treasurer
Cheryl Speir
Director
Susan Webb
Director
Andrew Orient
Director
Chris Flamos
Director
Chuck Welsh
Director
Robin Wuchina
Director
Harmony Museum Disclosures