This span enabled travel and trade between Pittsburgh and points north for many years. It had a sturdy foundation made from very large cut stones and was constructed of iron. These practical and sturdy bridges were built from the 1850s through 1930 when steel became readily available. The style is referred to as a truss bridge. The iron trusses are constructed to support the weight in the center of the span by transferring it to the ends of the support structure and then down to the foundation. It was replaced in the early 2000s with a beam style bridge, constructed with sturdy I beams that support the entire span from underneath eliminating the overhead framework. The new structure is a beautiful, decorative bridge that is attractive as well as functional, fitting in very well with the historic nature of its surroundings.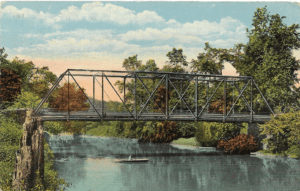 For many years this route through Harmony was the main road across the Connoquenessing creek and the only route leading north for many miles. In 1936 Route 19 was updated and a new concrete bridge built across the Connoquenessing in Zelienople, making it the main route and decreasing traffic through Harmony. 

Of the other three iron truss bridges, one is still standing at the west end of Mercer Street in Harmony but is not open to traffic, another stood on West New Castle Street in Zelienople and was also replaced with a beam style bridge in the late 90s and the last one stood across the creek at Harmony Junction, close to the newer one on Hartmann Road..