Answer
Where was this old landmark?
This is a toll gate on what was then the Pittsburgh-Mercer Road but is now Perry Way at the border of Jackson Township and Zelienople. The people charged with taking the tolls actually lived in this building in order to be available any time of day or night. Tollgate School Road is about a quarter mile south from here and got its name from this landmark.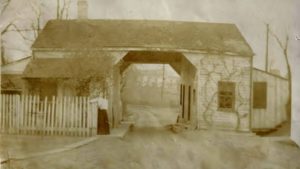 As traffic grew heavier on the route north out of Pittsburgh the dirt road that was to become Route 19 and was also Zelienople's Main Street became harder and harder to maintain, becoming a quagmire in late winter and spring. The young town of Zelienople could not afford to keep it in repair, so they erected a toll booth at the south border of town to help offset the cost. At that time the route did not cross the Connoquenessing Creek at the north end of Zelienople as Route 19 does today, instead it turned east on what is now Grandview Avenue, went down Harmony's Main Street and crossed the creek there. From Harmony it continued north through Mercer and eventually on to Erie.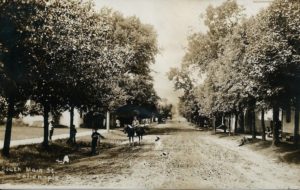 The picture of Main Street, Zelienople when it was a dirt street was taken facing north in front of what is now Walgreens Pharmacy. The Buhl House, now part of Zelienople Historical Society's museum, is the white building on the left.
Visit our website the first of every month for a new Area Memory.