Acoustic Open Mic @ the Harmony Barn
Tuesday evening August 15, the Harmony Museum is sponsoring Acoustic Open Mic @ the Harmony Barn.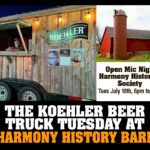 Koehler Beer will be set up with their beer truck for the event from 6 pm to 10 pm!
And we'll have the Harmony Museum Shop selling our fabulous garden iron and refreshments and snacks!
Hosted by Curt & Mark as a fundraiser for maintaining the barn.
Come enjoy some wonderful local musicians.
Bring a chair between 6 and 9 p.m. to the Harmony Barn, 303 Mercer Road, Harmony PA, to hear local musicians do their thing. 
Ready to share your musician talents?  Stop in early at the barn and sign up for a playing slot. All acoustic musicians welcome. 
Come hear and play music in an amazing space.
Admission is free, donations accepted and go to the Harmony Museum for barn upkeep.
Future open mic dates will be announced.
Barn Information:
Harmonist Barn
The Harmonist Society built the stone foundation of this barn in 1805, as part of a sheep shed for its growing flock. It served the Harmonists until they left Butler County in 1814. The barn was enlarged in the mid-1800s by David Ziegler, son of local Mennonite pioneer Abraham Ziegler. In 1999, the Harmony Museum purchased the property, preserving one of the oldest barns west of the Allegheny Mountains.  It is available for event rental at HarmonyMuseum.org.
The Historic Harmony Inc. is a non-profit that preserves nine sites in and around Harmony and operates the Harmony Museum. These sites include three log cabins, two cemeteries, two brick buildings built by the Harmonists, an 1805 barn and a Mennonite Meetinghouse that is listed on the National Registry of Historic Places.  The Harmony Museum and its artifacts tell the rich history of the area.