Historic Harmony – Historic New Harmony – Old Economy Village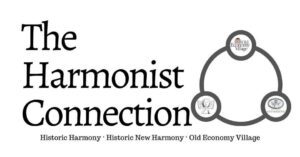 Join us for the another meeting of The Harmonist Connection, a free quarterly virtual program hosted by the three sites of the Harmony Society, on November 15,  at 7:00 p.m. ET.
After registering, you will receive a confirmation email containing information about joining the meeting.
 The webinar is free, but you must preregister to get the Zoom link to the presentation.  
Join author Michael Strezewski for The Harmonist Connection as he presents about Christoph Weber, Redware Potter of the Harmony Society, on Wednesday, November 15 at 6:00 p.m. CST/7:00 p.m. EST. The virtual presentation is in conjunction with Strezewski's new book on the same subject. This event is free to the public.
Christoph Weber was the master potter of the Harmony Society, a German utopian group founded by religious dissenter George Rapp. Working from 1808 to 1853, Weber made a variety of household wares such as pitchers, storage jars, jugs, plates, and mugs. Weber's pottery was distributed among the Society's members and sold to their neighbors. Utilizing documentary sources, archaeological investigations, and analysis of surviving ceramics, Michael Strezewski, Associate Professor of Anthropology at the University of Southern Indiana, paints a detailed picture of Christoph Weber, the different types of pottery he manufactured, and his place in the early nineteenth century origins of the ceramics industry in the United States.
Michael Strezewski is an Associate Professor of Anthropology at the University of Southern Indiana. Dr. Strezewski has directed archaeological excavations in New Harmony since 2008, publishing numerous reports and articles on the Harmony Society.