Historic Harmony – Historic New Harmony – Old Economy Village
Thursday, February 18, 2021 at 7 PM EST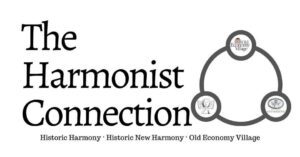 Join us for the second meeting of The Harmonist Connection, a free quarterly virtual program hosted by the three sites of the Harmony Society, on February 18th at 6:00 p.m. CT/7:00 p.m. ET.
George Rapp's sermons and other writings reveal that the Harmonist leader's religious beliefs were influenced by a number of divergent influences. On one hand, Rapp's beliefs reflect the cosmological speculation and Sophia doctrine common among some radical Pietists. But alongside this group of influences are other more orthodox Christian beliefs: core Reformation doctrines found within Lutheranism, key emphases of church Pietists, and important Anabaptist beliefs including the love feast, pacifism and shunning.
Additionally, certain symbolism endured from Rapp's separatist movement's beginnings in 1785 in what is today Iptingen, Germany. These theological and philosophical sources may be called the "Four P's": pietism, pacifism, perfectionism, postmillennialism. Tangible symbols of Harmonist beliefs, like churches, cemeteries, labyrinths, grottos, and sculptures began in the Society's first communal settlement at Harmony, Pennsylvania after 1804 and evolved into those at New Harmony, Indiana, and Economy, Pennsylvania. Additional symbolism began in New Harmony and Economy that endured until the Society was dissolved in 1905. Evidence of Harmonist symbolism can still be seen in all three of their towns.
Join us as Dr. Alice Ott and Dr. Don Pitzer present on the religious influence and the enduring symbolism of the Harmony Society.
Alice T. Ott received her PhD at Trinity Evangelical Divinity School (TEDS) in Deerfield, Illinois. Her PhD dissertation, published under the title The Sunwoman in the Wilderness (Emeth Press, 2014), examined the religious beliefs and practices of George Rapp's Harmony Society. She currently serves as an Affiliate Professor at TEDS, where she teaches courses in church history, the history of mission and world Christianity.
Don Pitzer is Professor Emeritus of History and Director Emeritus of the Center for Communal Studies at the University of Southern Indiana. He is a founder and first president of the Communal Studies Association in the United States and of the International Communal Studies Association headquartered in Israel. He published America's Communal Utopias in 1997 and New Harmony: Then & Now with images by photographer Darryl Jones in 2012.