Rails Across the Breakneck-Answer
Where was this old landmark?
Luntz Bridge in Harmony Junction
on the Pittsburgh, Harmony, Butler and New Castle Trolley Line.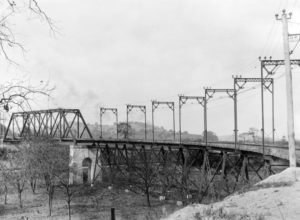 Luntz Bridge was located just off Textor School Road in Jackson Township about a mile east of Harmony in a small area known as Eidenau. The weathered piers and abutments from Luntz Bridge are still in place in 2019 and visible from Textor School Road. It is said that, at the time it was built, around 1909, it was one of only two curved railroad bridges in existence. Here it passes over the Breakneck Creek and the B&O railroad tracks about a hundred yards or so from where the Connoquenessing and Breakneck Creeks join. It was about ¼ mile east of the place on the B&O line where two sets of tracks merge known as Harmony Junction. The area is still referred to by that name.
The view in this picture is from the east end of the bridge, facing Harmony. The large hill in the background on the left was a local landmark and is still known locally as Pearsall's Hill after the family that owned the land for generations. It towers up to your left as you pass over the Connoquenessing Creek and Route 68, traveling south on Interstate 79.
The trolleys passing through carried not only passengers but produce and milk from farms along the way for transport to Butler, New Castle and Pittsburgh. The next stop, about ½ mile east toward Evans City was Ziegler Stop. There were several Ziegler farms between Harmony and Evans City that were owned and operated by descendants of Abraham Ziegler, early 1800s Mennonite leader of Harmony who purchased the land from the Harmonists when they left for Indiana in 1814. These and other local farms would have hauled their milk and other market items to this stop for shipment. The log cabin from one of these Ziegler farms now stands on Main Street Harmony and serves as a visitor information center.
Visit our website the first of every month for a new Area Memory.