Harmony House & Garden Tour
Visit 5 Historic Homes & Gardens and 1 Master Gardeners Garden.
Saturday, June 11, 2022
10:00 a.m. to 5:00 p.m.
Admission $30 with lunch
or $25 without  lunch
Reservations only.
Tickets go on sale May 1, 2022
Purchase tickets below via Square link
or by calling (724) 452-7341
Limited number of tickets available.
You will enjoy a sampling and variety of architectural styles
and many have charming gardens.
Among the homes will be a Harmonist home, a Mennonite home,
and a 1873 House & Carriage House.
Among the gardens will be a Master Gardner's Garden.
You will also get to see the outside a a Harmonist house that is
a work in progress, 1/2 timber & 1/2 log.
We want to thank the home owners who have so
graciously consented to open their homes for public viewing.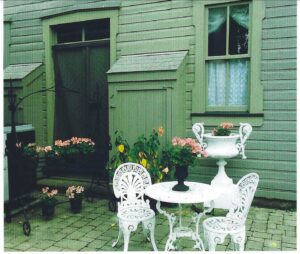 Masks are at the discretion of the homeowner.
No more than 10 people in a home at a time.
Please be sure to hold your children's hand while on private property.
Lunch will consist of a sandwich (either Turkey or Ham)
a small bag chips, fruit cup,
and a bottle water.
You can eat in Stewart Hall, or if the weather permits,
outside in the Museum Shop yard.
There will be artisan vendors set up around the Museum lot.
Once your tickets are purchased using the link below, you will receive an
email requesting your lunch choices.