Western PA 1753 to 1814 - Special Exhibit
HISTORIC ARTIFACTS TELL NEW STORIES IN HARMONY MUSEUM EXHIBIT
Saturday, April 2, thru Saturday April 16
Tuesdays thru Sundays
Noon to 4 p.m.
Special Presentations 10 a.m. April 2, 9 and 16
Admission for the exhibition and the Saturday lectures are $5 per person.
Museum members are admitted free.  
Along with the daily exhibit, there will be Special Presentation,  reservation recommended, lectures that will be presented by Ken Hoover and fellow historian Dr. Robert Guy, on Saturday mornings April 2, 9, and 16. Reserve your lecture reservation below. Members can call the office to be added to the list for free. (724) 452-7341.

The Harmony Museum will host a special exhibit of rare artifacts April 2 -16, in the Museum's Stewart Hall, 218 Mercer Street, Harmony PA. The exhibit, Western PA 1753 to 1814–George Washington to Commodore Perry will display an amazing collection of items–uniforms, guns, paintings, swords– that tell stories from the timeframe that covers the earliest recorded Harmony history–from George Washington's 1753 visit to the area, to the communal Harmonists, who founded Harmony, leaving Pennsylvania for Indiana in 1814.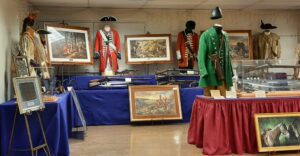 This exhibit places Historic Harmony within a much broader arena, accenting personalities like Richard Butler, Hugh Mercer, and John Armstrong, whose names are woven into the surrounding landscape. It will place it within the network of Native American communities, like those at Kittanning, Beaver and New Castle. And it will probe lesser-known dimensions like the multiple faith traditions, the various migrations, and the partnership and integration that have given western Pennsylvania its unique flavor.
The artifacts are on loan from Michigan collector and historian Ken Hoover, who has a special interest in western Pennsylvania history. "I'm excited to bring this collection of artifacts to exhibit in Harmony," says Hoover, who grew up  in nearby Ellwood City, PA. "When I retired from teaching, I wanted to continue to tell the stories of the amazing history that happened in western Pennsylvania.  These artifacts, many one-of-a-kind, bring those stories to life." 
**************************************
Special Saturday morning presentations about the exhibit and the stories it tells about western Pennsylvania history. 
Doors open at 10, presentation and questions 10:30-11:30.  $5 admission.
Attendance limited to 25 people.
April 2–Historian and collector Ken Hoover, and author of Becoming America, Dr. Robert Guy.
April 9–Historian and collector Ken Hoover, and author of Becoming America, Dr. Robert Guy. 
April 16–Historian and collector Ken Hoover (final day of the exhibit).
After choosing your Presentation Date via the drop down menu and clicking Add to Cart you can adjust the number of tickets being requested. No tickets will be mailed, your name will be on the list at the Special Exhibit.