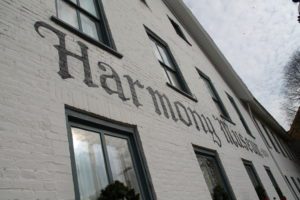 Historic Harmony
Architectural Walking Tour
Join local history experts on a historic Harmony walking tour delineating Harmony's historic Harmonist past as well as discussing it's unique architecture.
Two walking tours will take place each Saturday, in June. Reservations and prepayment recommended.
Cost is $10 per person and benefits the Harmony Museum.
Tour times are: first tour starts at 10 a.m. and the second is 1 p.m. and each tour will last about one hour.
Masks are recommended and a good pair of walking shoes!
Please call (724) 452-7341 and speak with Katina.
The Historic Harmony Inc. office is located in the main Museum building at 218 Mercer St., Harmony, PA. 16037 and the office is open Tues through Friday from 1 pm to 4 pm.